As with 'Star Wars: The Clone Wars'and 'Star Wars: Rebels' I can't claim to have seen every episode of this animated show. At the time of writing I have seen series one in its entirety but I've yet to see any of the second (and as it turns out final) series.
In fairness to me, although time was a factor, series two is not yet available on Disney Plus in the UK. I'm pretty sure I could have found it in other, less legal, corners of the internet, but, given that I've been operating on a pretty tight viewing schedule for most of this month, I thought series one would suffice for this post.
And I think it just about does, although I'm glad I did watch the first series to the end because frankly my views on the show after watching a few of the early episodes were very different to my views now I've seen twenty-one episodes.
But before all that, please enjoy this spoiler alert:
Spoiler Alert – If you haven't seen series one of this show, then the following may contain spoilers. But it's highly unlikely to contain spoilers for series two, because I obviously have no idea what happens in that. 
Up until about halfway through this series (roughly around episode ten) I was pretty convinced I was going to be writing a pretty scathing post about this show. The animation, though stylistically very different to either 'The Clone Wars' or 'Rebels' is obviously of a high standard. But that was about all I could say that was remotely positive.
Just as 'The Clone Wars' is clearly linked with the prequel trilogy and 'Rebels' has some pretty obvious links with the original trilogy, this series is very much tied in with the sequel trilogy.
Except that it doesn't seem like it really is in the early episodes. In fact it doesn't much feel like it's got anything to do with Star Wars at all.
Poe Dameron (voiced by Oscar Isaac no less) is in a few episodes, and 'R2D2 wannabe', BB8, is a regular up until episode 17 but that's more or less it. OK, 'Galactic Empire wannabes' The First Order are also in it a fair bit, but mainly in the background – Gwendoline Christie voices Captain Phasma in a few early episodes but she's barely in it really. The main antagonists early on are pirates. Pirates! And a lot of the early action seems to focus on racing. Not exactly pod racing like in 'The Phantom Menace', but not a million miles away either. 
The premise is that the main character, Kaz, is working undercover for The Resistance on an aircraft refuelling station, which isn't all that enthralling as concepts go. Most of the early episodes are less about him spying on the First Order and more about him trying to fit in with his new surroundings. Which is as dull as it sounds. And frankly he's a bit of an idiot. I'm not quite sure why the Resistance have recruited him.
Anyway, it's all a bit silly and lightweight and not really much to do with Star Wars and most of the characters are quite hard to like.
And then all of a sudden it gets a lot darker and The First Order suddenly become quite prominent and Kaz stops being quite so much of an idiot and seems to be a vaguely competent spy after all.
And even though I thought I was quite indifferent to it all, I actually found myself quite enjoying the last few episodes.
And I'm now actually quite looking forward to watching series 2.
Best character – Neeku Vozo
Takes everything he hears literally which mostly results in the show's funniest moments. Can be hit and miss as a source of comic relief and does have the potential to be an irritating character, but is generally too endearing to ever be truly annoying.
Worst Character – Jarek Yeager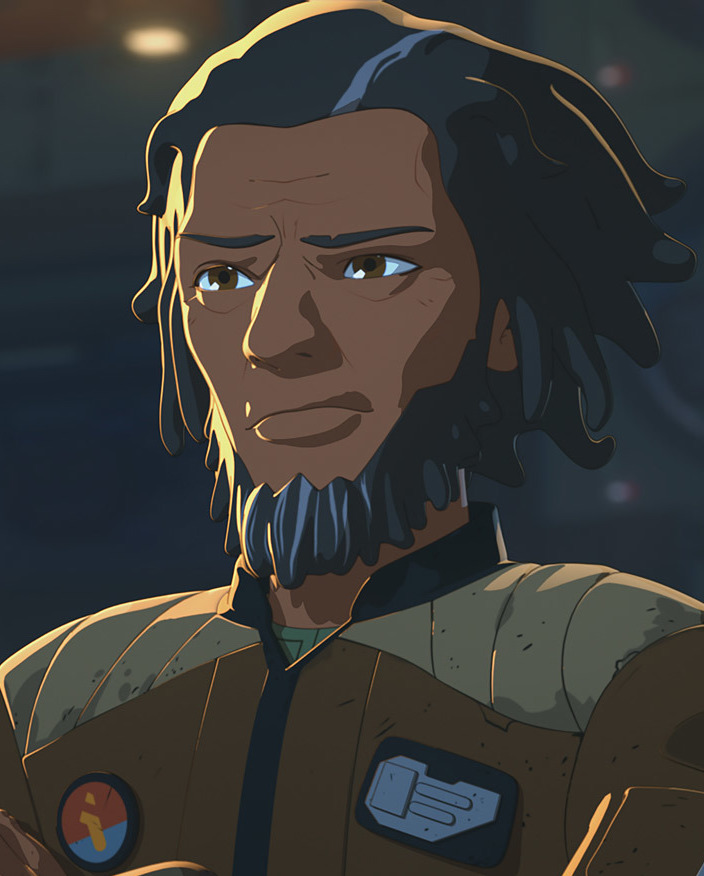 Meant to be a world-weary but ultimately wise and caring mentor for Kaz. Mostly comes across as grumpy and a bit of a killjoy. Has a bit more about him in the later episodes but will need to put in more of shift in series two for me not to regard him as a rubbish character.
Unsung hero – CB23
BB8 is with Kaz in the first 17 episodes and in the few episodes we see Poe he is accompanied by CB23. Then Poe decides he wants BB8 back and swaps him for CB23, who is then with Kaz in the final four episodes of the series. And clearly is just as good as BB8. So why does Poe feel the need to swap? Harsh.
And that's all I currently have to say about 'Star Wars: Resistance'. Tune in tomorrow when I'll be writing about something else to do with Star Wars.